Brand Strategy
Brands are the core of any company, whether you have chosen it or not. It signals your position to the buyer: cheap or expensive, quality or shoddy, fun or boring, new or old-fashioned.
We work with companies to understand what your brand is and how to apply this to all areas of your business.
Your brand must help you get:
More attention
More customers
Ready for exit
Our practical approach looks across the company at positioning, messaging, your culture, tone of voice and your goal for the brand.  And we always start with research.
Where are you now?
Who do your clients think you are?
Who do your prospects think you are?
What do unhappy ex-customers think?
What do your staff say about you?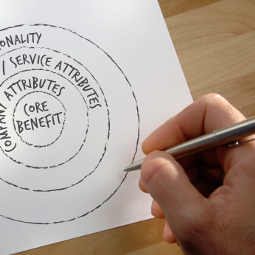 This helps us create a brand map which then informs all the further work to implement your new brand strategy.  We look at logos, colours, tone of voice, advertising, stationery, marketing brochures, delivery, websites, reception, email, telephone, events and more. A consistent experience for the customer helps develop a strong brand and deliver the marketing strategy which ultimately delivers more sales and bottom line profit.
We work closely with brand agency Thinkfarm to deliver brand strategy projects.